About our Canadian Sphynx cattery
Our Canadian Sphynx kitten are not entirely naked, they have whiskers. As an officially approved Sphynx breeder we comply with the Austrian Animal Welfare Act. We are registered with the largest breeding association in Austria (FIFe, ÖVEK) under the strictest guidelines!
We are a Canadian Sphynx cat breeder focused on preservation of the breed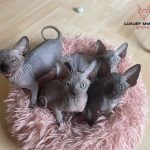 Our purebred Canadian Sphynx cats, have best internationally recognized pedigrees over many generations (titles: WC, SC, GICH, GCH, ICH, CH). They have clearly visible whiskers and are annually HCM and PKD negative sounded, tested for hereditary diseases, FIV and FELV and parasites.
The kittens grow up with us in the house with family connection. Thus they get to know children, dogs, birds and of course all everyday noises.
Handover
At delivery (14. – 16. week) our kittens are 100% housebroken, completely vaccinated, dewormed, chipped and neutered. 
Also included: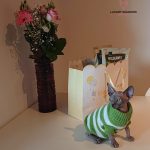 A current fecal profile (by lab!)
Health certificate (incl. organ screening!)
EU vaccination certificate
Pedigree from ÖVEK, the Austrian Federation for breeding and keeping noble cats (FIFe member)
A starter package with food, cuddle blanket, toys and a surprise!
Waiting list for our Sphynx cats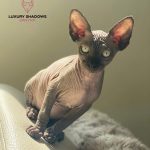 Due to the high number of inquiries and reservations we do not give out any waiting places for our kittens this year. If you are interested in a new family member, please contact us directly.
We always prefer to get to know each other personally. As a responsible Sphynx cat breeder, we strive to find the ideal new home for our velvet paws. The estimated waiting time to buy a kitten from us is about one year at the moment due to the strong demand.
At the same time we would like to thank all interested people for their patient waiting and their trust in us!